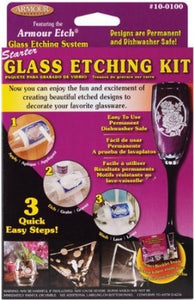 From the manufacturer:
Contents:
1.5 oz Armour Etch CreamAn assortment of Rub N Etch stencilsAn assortment of reusable Over N Over stencilsCamel hair brushapplicator stickIllustrated instruction sheet
This kit is the perfect introduction to the art of Creative Glass Etching. Makes a great gift for that special do-it-yourselfer on your gift list.

Armour Etch is a fast acting specially formulated glass etching compound that lets you create permanently etched designs on windows, mirrors and household glassware. Create your own custom glass etching stencil or use a pre-made stencil. This unique glass etching system allows anyone to personalize and decorate glass or mirrors in minutes with no previous experience. Try it, you will love it. Not intended for use by children. Will NOT etch Pyrex or plastics. NOT recommended for etching large solid areas of glass.