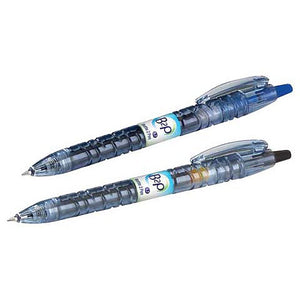 Simple click pen with an eye to the environment. Not only are these pens made from almost 90% recycled materials, but they are refillable! Delightfully smooth writing experience you can feel good about!
From the Manufacturer:
Made from 89 percent post-consumer recycled plastic bottles, the B2P (Bottle 2 Pen) features vibrant gel ink and a fine 0.7mm point for smooth, effortless writing. Designed to mimic a bottle of water, the body of the B2P pen is translucent blue with unique striations like those commonly found on water bottles. Retractable and refillable with Pilot G2 refills.