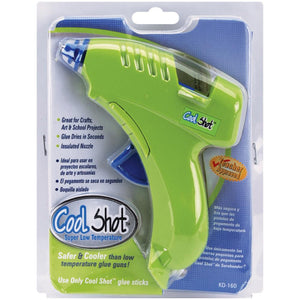 The CoolShot hot glue gun is unusual in the hot glue field. It does heat the glue to melt it, but it uses special low melting point glue so that it never gets so hot you burn yourself! Excellent for crafting with littles. We do not recommend unsupervised use by children as it does still get very warm.
From the manufacturer:
This super low temperature mini glue gun is ideal for crafts, art and school projects. It operates at a lower temperature than low and high temperature guns for safer use. The nozzle is also insulated to protect finger tips. The glue dries in seconds and if it gets on your hands it will not burn. Glue will bond to paper, ribbon, lightweight fabric and other delicate materials. Uses Cool Shot glue sticks (FPCS-15).