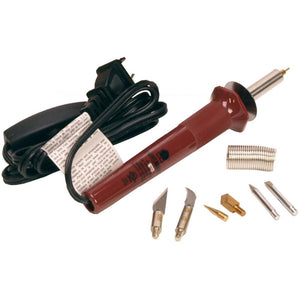 This multipurpose tool is great for a number of hot applications. From wood burning to soldering to cutting satin ribbon, this tool has a tip for it all. Upgrade to the Versa for more control over just how hot your tool gets, cooler for delicate applications, and hotter for deep color on wood.
Creative Hobby Tool with on/off switch includes:
7 interchangable points
solder
tool stand
Creative Versa Tool with temperature control includes:
11 interchangable points
solder
tool stand
From the manufacturer:
The Creative Hobby Tool heats up to 950 degrees. Features on/off switch and includes 2 soldering points (cone and square), lead-free solder with rosin core, 2 hot knife points (straight and hook), Tapered Point, Texture 'n Tone Point, Mini Flow Point and tool stand.
The Creative Versa-Tool had everything you liked and it just got better! This Creative Versa-Tool has a temperature control feature. Choose a surface, technique and point to use then refer to the Versa-temp list for the appropriate zone. Kit also includes the Versa-Tool stand, a storage case, lead-free solder, 11 interchangeable points- universal, mini universal, flow, mini flow, tapered, calligraphy, shading, hot knife, soldering, stamping and cone point, instructions and technique ideas.