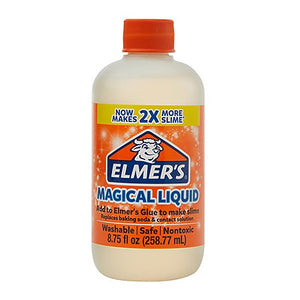 Convenient slime activator! This non-toxic slime ingredient is ideal for creating slime that it gentle on skin. Just mix with your favorite Elmer's glue and start adding mix ins! Check out our Slime List for ideas!
From the manufacturer:
Created in response to the steadily growing Slime craze, this Magical Liquid is designed especially to activate Slime. Use Magical Liquid instead of baking soda and other messy household ingredients! It doesn't cloud clear slime. It is safe for kids, AP certified non-toxic.