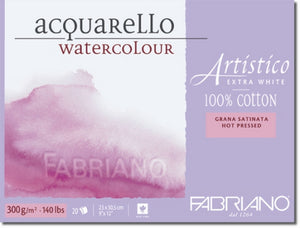 These watercolor blocks are the ultimate travel indulgence. Small enough to add to your watercolor travel kit, the 100% cotton paper is a delight to use. Bound into blocks, the paper resists warping and buckling without taping to a surface.
From the manufacturer:
Artistico Extra-White features the latest innovations in sizing, and a unique bright white color that is the purest natural white available without artificial optical brighteners. Mould-made of 100% cotton, double-sized, acid-free/neutral pH, chlorine-free. Four watermarked surfaces including the exclusive soft press. Excellent for all water media, printmaking, digital printing, charcoal and drawing. Professional quality at a great price.