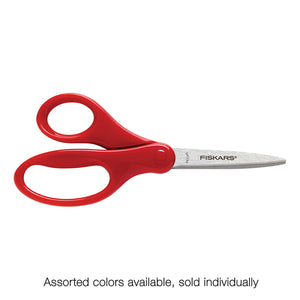 Has your student out grown their kid's scissors? It's time for the 7 inch Student Scissors. Large enough for mostly full grown hands, these are still small enough to fit in a pencil case.
From the manufacturer:
Teachers recommed Fiskars brand scissors because they are designed to meet the specific needs of each age level, so kids of any age can make frustration-free cuts safely and successfully. Features a lasting sharp edge for excellent cutting performance on more advanced projects. Includes sharper blades and larger handles than the Big Kids Scissors. Handle is sized for growing hands. Ages 12 and up.