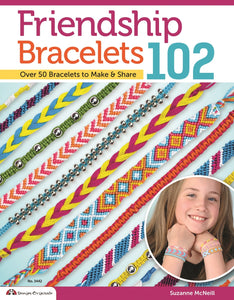 Looking for fun new friendship bracelet designs? This book has more than 50 options to choose from. Pair it with a collection of our embroidery flosses for a fantastic party craft or present!
From the manufacturer:
DESIGN ORIGINALS-Friendship Bracelets 102. This book features more than fifty friendship bracelets to wear and share. Clear instructions and images illustrate exactly how to wow your friends with mementoes of your years together. Softcover: 19 pages. Made in USA.