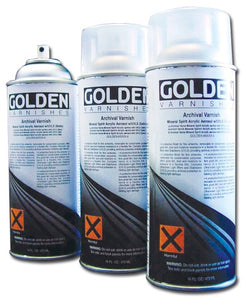 Spray varnish is the perfect way to finish your painting. It protects your work while being thin enough to leave every brushstroke clearly visible. UltraViolet Light Filters and Stablilizers (UVLS) help reduce the impact of UV light, keeping your colors true longer. Gloss adds sheen to your project, highlighting the texture. Satin is a subtle sheen. Matte reduces the sheen to a finish similar to paper focusing the attention on the colors more than the textures.
From the manufacturer:
Archival Aerosol Varnish MSA with UVLS is formulated with 100% solvent-based, reversible acrylic co-polymer resin. It is an easy to use spray varnish made with fast drying acetone and a propellant. Properly applied, it creates a durable, even film with the same features as GOLDEN brushable MSA varnish plus, excellent wet/dry state clarity. It resists changes in appearance, remains flexible. It has an adjustable fan spray tip for precise application and reduced overspray.