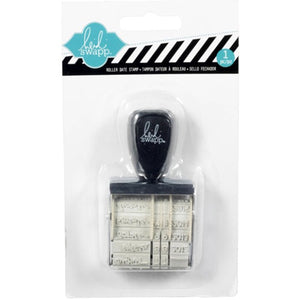 Do you love those old roller date stamps they used to use in the library? Do you long for one, but maybe with a modern twist? Let us introduce you to the Heidi Swap Project Life Roller Date Stamp. Using a handwriting style font, this stamp follows the Month, DD, YYYY format. An excellent way to easily mark you journal pages, letters, cards, or packages. Fast, easy, classic.
From the manufacturer:
Add a little style to your date stamping with this Heidi Swapp roller date stamp. This package includes one 1.75x3.25 inch stamp.