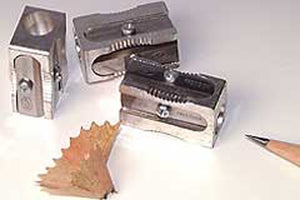 We love this sturdy metal pencil sharpener. The compact size packs a lot of punch. The blade is very sharp and durable, ubt if it does ever dull, simply grab a small screwdriver and replace it with one of the spares attatched to the side!
From the manufacturer:
Magnesium Alloy Pencil Sharpener, standard block profile, precision-made of milled magnesium alloy, recessed grip zone, with 2 spare blades.