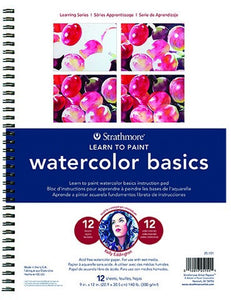 We love the Learn to series from Strathmore. A creative blend of instructions and paper to practice. Practice and complete lessons right in the book! Includes 12 sheets of cold-press watercolor paper.
From the manufacturer:
Learn To Paint Pads, 2 Titles by Kelly Eddington 12 sheets of 140lb./300 gsm Watercolor Paper, 12 printed, step by step lessons per Pad all supported by Online Video Tutorials Featuring Kelly Eddington.