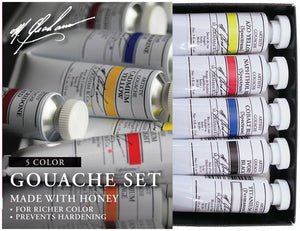 Gouache is an opaque paint of a similar consistency to watercolors. Frequently painted on watercolor or mixed media paper.
From the manufacturer:
Set contains (1) tube each of: Azo Yellow, Maphthol Red, Cobalt Blue, Titanium White & Ivory Black.

Fine Art Gouache

Each color has been formulated with pure, Northwest honey for layered application without cracking. Balanced quantities of gum arabic and water are combined with large amounts of pigment to achieve a high degree of flow for strong brush strokes and direct, smooth application without loss of brilliance. Our Gouache is crafted with high performance lightfast pigments. The nature of the each pigment creates variations of opacity. We leave the addition of white to the artist.