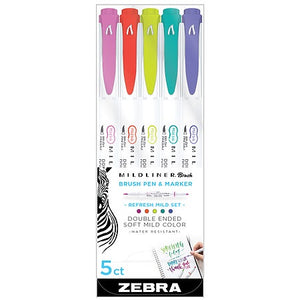 From the manufacturer:
The Zebra Mildliner Brush is conveniently double-ended with a paintbrush-like tip and fine marker in one pen. The brush tip is like an artist's brush allowing for thick or thin strokes while the fine tip marker provides more consistent lines and controlled marks. The soft Mildliner color is translucent and excellent for layering. The acid-free pigment-based ink is water-resistant and doesn't bleed through most surfaces.
The 5-Color Cool & Refined Set contains red, violet, gray, dark blue and green.
The 5-Color Refresh Set includes mild fuchsia, mild marigold, mild citrus green, mild summer green and mild lavender.
The 5-Color Friendly Set includes mild lemon yellow, mild apricot, mild coral pink, mild cyan and mild dark gray.