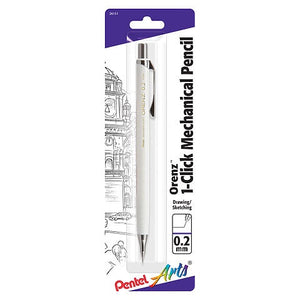 For those times you need a super fine line, these mechanical pencils have you covered. Available in either 0.2mm or 0.3mm, these pencils come filled with b hardness lead for a fine dark line. We also carry the super fine lead refills.
From the manufacturer:
Orenz is Pentel's one-click, lead break-resistant mechanical pencil. The unique sliding sleeve prevents lead from breaking. Pre-loaded with Pentel super hi-polymer B lead, it never needs sharpening and produces a clear dark line. The lead should not extend past the metal tip. It writes without you actually seeing the lead.