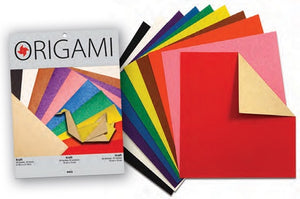 The Kraft Assortment includes 50 sheets of 5 7/8" x 5 7/8" paper in 10 colors. Heathered color on the front, kraft on the back. Includes a set of basic instructions
The Solid Assortments contain 20 colors: red, orange, light orange, chrome yellow, peach, white, pastel pink, pink, sky blue, aqua, mint green, fluorescent green, green, grey, brown, blue, cobalt blue, purple, black. All sheets are white on the opposite side. Includes a set of basic instructions.
From the manufacturer:
The secrets of this precise, delicate art of paper folding known as Origami have been passed on from generation to generation since their origin centuries ago. Choose from our wide range of origami papers in exciting colors, patterns and textures.
The Animal Pattern Assortment includes 24 sheets of 5-7/8" square paper with 6 animal patterns and a set of standard beginner's instructions.