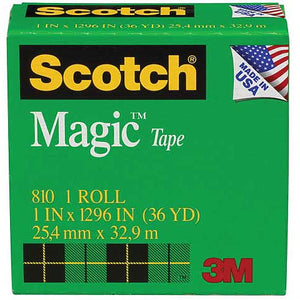 This standard 3/4 inch magic tape fits most dispensers. Practically invisible when applied, the slight texture allows for clear writing for labeling!
From the manufacturer:
The ever-popular tape that's invisible when applied, #810 tape can be written on, resists yellowing, cracking and moisture. For mending, splicing and many other permanent applications. In 36 yd. rolls with 1" cores.