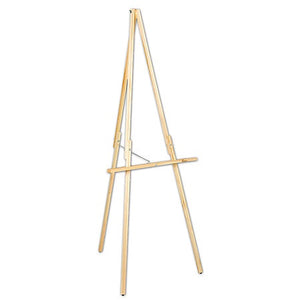 Simply classic. These easels are simple to assemble and dissassemble. Classic three leg easels with a ledge for your art. These are designed for easy sketching or display.
From the manufacturer:
The No.2 Table Easel is a 25" tall tripod wooden table-top easel. It is study, economical and portable. Assembly required. Smooth sanded economy easel ideal for travel, students, amateurs and display. Assembly required.
The No.5 Sketching Easel is a classic 64" tall tripod easel. Features rubber tips for legs and a 12" leg chain for stability. Holds signs up to 36". x 48" on 1-1/2" shelf with three ridges. Front legs 24" apart. Assembly required.