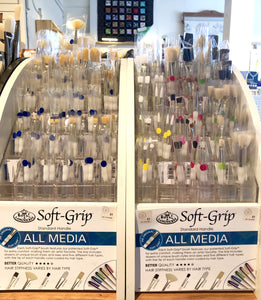 These Soft Grip brushes are affordable workhorses. They come in a variety of shapes, sizes, and bristle type.
From the manufacturer:
Form meets function in this selection of appealing and durable brushes that feature the original no-slip soft rubber grip on it's clear acrylic handle. This extremely well known and great selling line consists of Gold Taklon, White Taklon, Natural/Synthetic Combo, Synthetic Sable, Natural & Stiff Hog Bristle hair types.
Angular Brights/Shaders/Foilage: Used for tight shading and curved strokes.
Bright/Chisel Blenders: Length and width of brush is generally squared. Similar to flats, but shorter hairs make a stiffer brush.
Comb: Combs produce a repetitive pattern of thin lines.
Deerfoot Stipplers: Texturizing brush. Use a dry brush and light, pouncing technique for fur, shrubbery, and soft backgrounds.
Fans: Brush fibers are spread out making it useful for subtle blending and for textural effects.
Filberts: Create a softer edge than a flat or bright.
Flats: Longer hairs than a bright, this brush has more flex and a large color carrying capability.
Liners: Similar to rounds, but with longer hairs. Liners have a large color carrying capacity and makes long, fluid strokes.
Oval Washes: A cross between a mop and a filbert, used primarily for laying in large amounts of color and blending.
Mops: Mops have a large rounded shape that lays in large areas of color with a soft edge.
Rounds: Smaller sizes are typically used for detail work and larger sizes tend to be used for washes and filling in color.
Washes: A wide, flat brush used primarily to lay-in large amounts of color, to wet paper, or for blending.