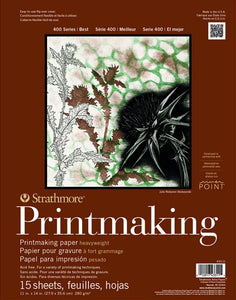 This is a great paper for any kind of print making. The smooth surface permits crisp, clear image transfer from lino blocks, quick carve images, stamps, or gel plates! The thicker paper reduces buckling under layers of paint or ink. Check out our Printing collection!
From the manufacturer:
This natural white paper is ideally suited for printmaking processes that require a heavier paper such as lithography, intaglio and screen print. Also suitable for relief printing. Medium-textured surface is soft, durable and can absorb large amounts of ink. Paper contains high alpha cellulose wood fiber and is acid free.
Heavyweight Printmaking 280 g/m2