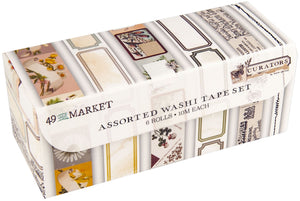 Each box set includes several rolls of coordinating washi tape, 10 meters each! This box set also includes a built in trimmer to create smooth edges everytime.
Curators Set includes 6 rolls of washi tape (6mm, 15mm, 4 at 20mm). Each roll is 10m long. 
Vintage Artistry Set includes 4 rolls of washi tape (widths included are 3 inch, 3/4 inch, 1/2 inch and 1/4 inch). Each roll measures 10 meters long.